Welcome to Bai Dental Care, a cozy little clinic centrally located in Frederiksberg, Copenhagen. You can always drop by and get good advice for free. The clinic has modern treatment equipment and has the best hygiene conditions. For example, we use only sterile water for treatment at the same time thermal disinfection and autoclave for sterilising instruments. We also want to avoid using chemicals for environmental considerations. There are 2 hours of free parking right outside the clinic, as well as bus and metro stops nearby. The clinic is located on the ground floor with only three steps to the entrance.
Here in the clinic you can receive:
General dental examinations examination of the teeth, gums and oral hygiene, regular inspection)
Preventive treatment
Dental cleaning, periodontal treatment
Motivation and instruction in individual optimal dental and oral hygiene
Polish fillings, temporary filling, dental crown and bridge
Teeth whitening
Great experience with fit dental implants
Recovery from dental phobia
Massage to relieve jaw pain and headaches
Guidance on diet and dental health and smoke-quitting
Taking digital X-ray images
The Danish Agency for Patient Safety has inspected the clinic, please find the audit report here.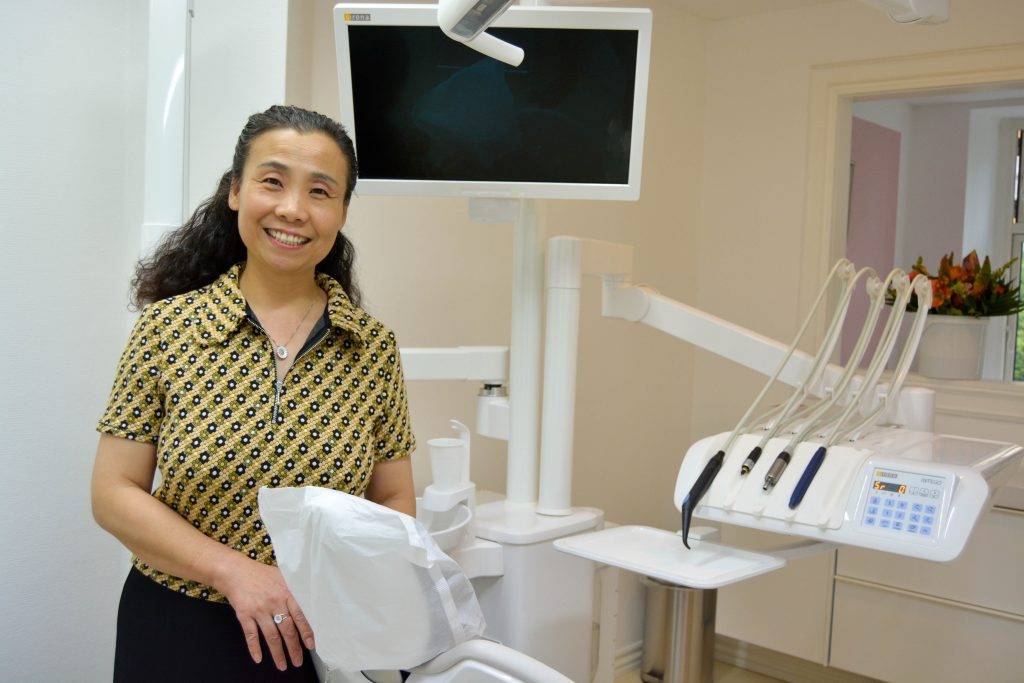 Jian Bai
I am an experienced dental hygienist who carries out examination and treatment thoroughly and yet very gently. I am educated as a dental hygienist in Denmark, and has a Bachelor of Dentistry from SKT Aarhus University (2014).
Before I took my education as a dental hygienist, I have worked for more than 9 years as Dental Assistant here in Denmark. I care very much about the professional quality of the preventive work, and focus on giving patients a good experience, at the same time achieving pain-free treatment. I set great importance on personal and professional development, and that is the reason why I have also participated in many courses over the last 12 years.
In fact, I have also worked as a dentist for 18 years in China before I came to Denmark. I came as a guest researcher for Panum Institute in 2001 – 2003 where I participated in a research project on dental implants. I have therefore long-standing and wide experience in dentistry and now I have combined it with the latest knowledge of modern and efficient treatment methods.